I have decided to finally start a diet.
Trixie and Tess are two wonderfully smart gals that have come up with a fool proof diet plan.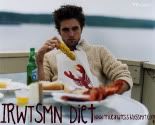 If Rob Were To See Me Naked
That's right! If Rob were to see me naked I would want to look my best and get some of my voluptuousness under control.
My #1 goal for this diet plan is to fit into my skinny jeans.
You know the ones, that pair of jeans that are hanging up in the closet waiting for you to come back to them.
I have a wonderful pair of jeans patiently waiting for me. This diet plan is helping me in my goal of fitting into those jeans. The pair that make my butt look fabulous!
Do you have any healthy recipe tips to give me? I am open to suggestions since the only food I eat comes pre-made or of the instant variety, I can use the help :)
Want to start your own diet? Check it out:
http://trixieandtess.blogspot.com/2010/09/irwtsmn.html