Pssst.....
I have a secret.
I know this is going to come as a big shock.
I have fallen off the wagon.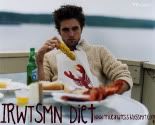 Shocking, I know!
Can you imagine?
Chubby chick like me not sticking to a diet???
Yeah, well it's true.
I have not been on my best

IRWTSMN

behavior,
and I should be punished! (Rob????)
So today, I decided to recommit to the

IRWTSMN

program.
I diligently counted my calories.
I got a good walk in before dinner.
I imagined Rob seeing me naked.
So, we're all good, right????
One day at a time......
What brought all this on you say?
First,
my daughter secretly video taped me yesterday,
and I could not believe how fat my arms are!
Thank God long sleeve weather is around the corner!
Second,
there were quite a few pics in our

Faux Forks
post where I think you could pretty much
show a movie on my ass!
Finally,
Trixie and Tess did an awesome
post
last Friday
(yeah, I'm almost a week behind as usual)
that included some incredible and inspirational
IRWTSMN

Manips
made by Kelly at

mydiscomROBulation

.
I have to share my absolute favorite -
I'm keeping this one on my phone,
since I don't want to have to explain to the hubs
T and T's post also asked what everyone's inspiration
for losing weight was, so here's mine.
Last November, I had my elementary school reunion
and I really wanted to go in the Bella dress
Luckily my sis was with me to take pics.
I highly recommend this when trying on clothes.
If I had not seen myself in a picture,
I might have foolishly bought a dress that looked
absolutely hideous on me!
Proof that just because they sell it in your size,
does not mean you should buy it!
(ugh, that pic is totes embarrassing!)
This, however, is my inspiration.
To be able to buy this dress and feel good about wearing it.
I know I'm not going to be super skinny.
Then add 3 babies to the mix.....well, you do the math.
I just want to feel good.
So, how's everyone else doing?
How are you staying on the IRWTSMN wagon????